HOW IT'S MADE - Sri Lanka
We are often asked about how our designs are made so we have created this page to show some of the processes and demystify it all a bit! Hannah's ceramic designs are all handmade in a small pottery in Sri Lanka, where for the last 8 years she has been visiting each year to create new designs and look over how everything is going there.

She chose Sri Lanka as it was a small, family-run business which places a high value on it's workers and their environment. They allowed her to order in small manageable quantities which helped her to grow a large range of designs for customer to choose from, and build the business over time.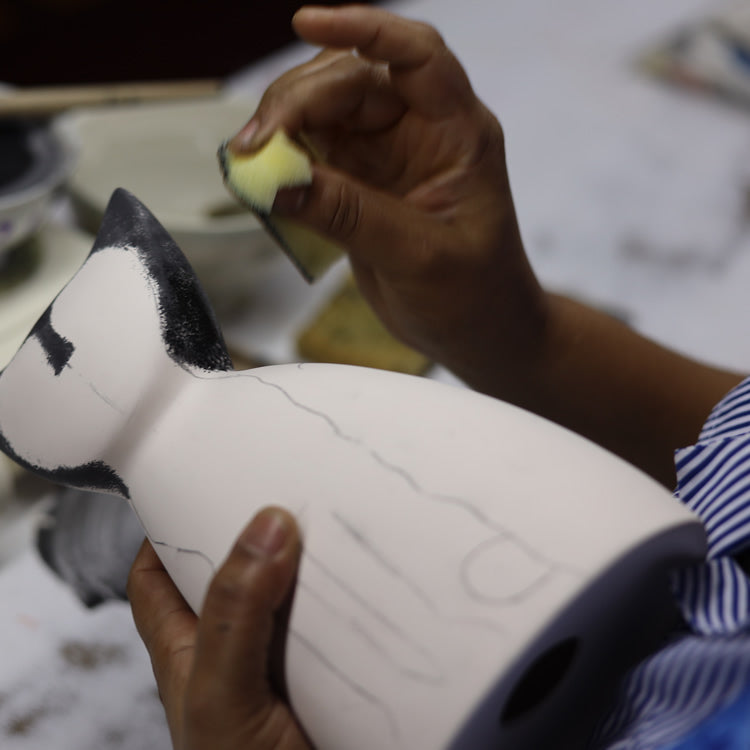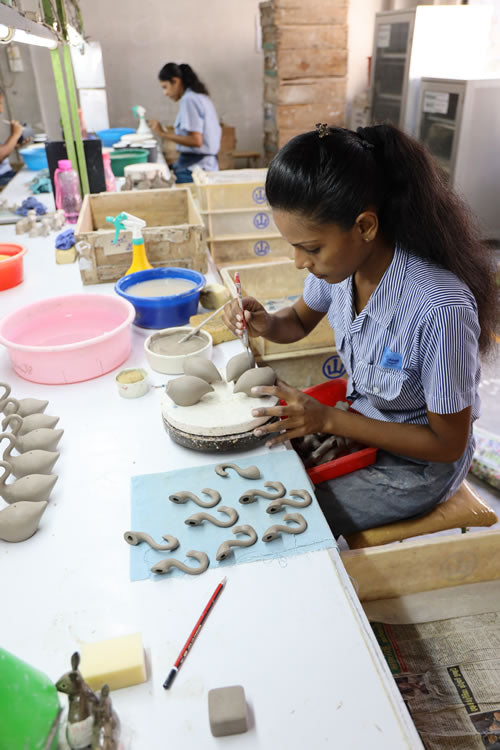 HAND FINISHED AND DECORATED
The highly-skilled workers are responsible for hand-finishing each of the designs, from cleaning up the raw clay as it comes out of the mould, to the next stage of hand-painting or sponging the under-glaze colours, carefully transporting and loading these into the tightly-packed kilns, and then on to the hand-decorating with the screen printed decals that add that final bit of character to each design.

Hannah's initial models are taken though the design studio and prepared for having a mould made from them, this is her favourite place to work as it is light and airy, and some great creations have started here!

It's fascinating to see all of the processes involved in production, from raw clay to packed goods ready to send on their way, either to the UK, USA, Japan or other countries that now sell Hannah's work.
SERIOUS ABOUT SUSTAINABILITY
The business is reacting and auditing all aspects of how the designs are made and packaged, to keep the carbon footprint down and reduce our impact. All of our packaging is recycled, and there are no plastics involved at any stage apart from a bit of packing tape, which we are also looking into replacing.

Hannah keeps her trips to Sri Lanka to a minimum and is in the process of organising tree planting to offset the carbon emissions from flying, as well as researching other sustainable products to add to the range on offer, and checking all areas in the supply chain. This is crtical to the direction the business will go in in the next few years, as we care deeply about our planet.

We hope that you appreciate that everything we produce is intended to be a collectable and cherished purchase, and we are not buying into throw-away consumerism, but trying to create designs of quality on a small scale. The attention to detail that goes into every aspect of what we create is part of why we are not the cheapest on the market, we don't want to be cheap bulk buys, but offer British design created to last and pass on through the generations.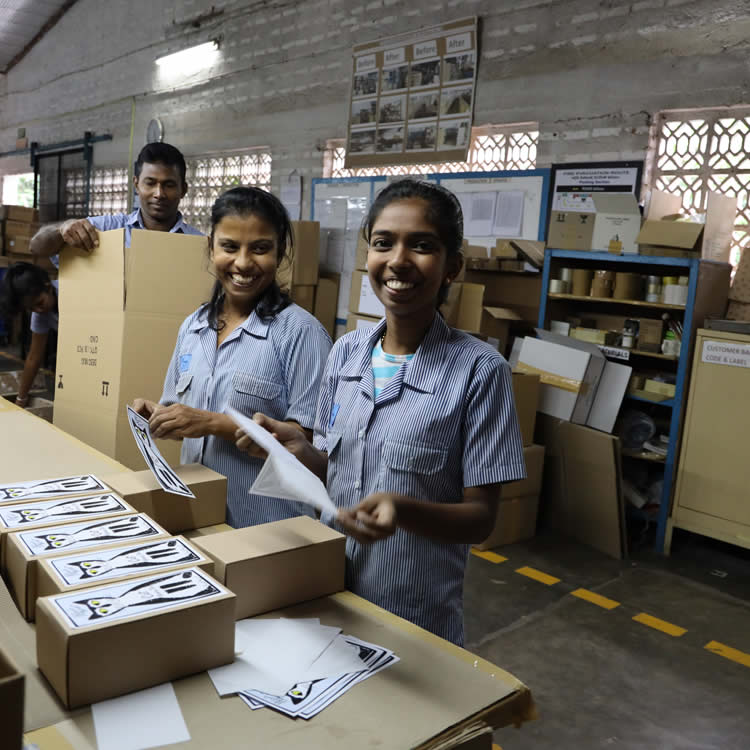 HOW IT'S MADE - UK
TEXTILES
All of our kitchen textiles are printed in the UK on organic, unbleached cotton. We are serious about sustainability and so this was the best option for us - cotton production causes a lot of environmental issues if not done in the right way. The UK company we work with also allows us to order in smaller print runs, so we can try out more designs! 2021 will be the year when we add to our collection with the Moth designs.

GICLÉE PRINTS
Our growing range of giclée prints are printed for us in Bristol on Fine Art paper, with non-toxic inks, on a beautiful archival substrate paper that has a watercolour feel. Each print is supplied in a biodegradable, compostable, vegetable starch print sleeve with card to support it - so well protected and yet plastic free. We are determined to keep plastic out of our business! All prints are signed by Hannah on the front of the print.